Marina and Ruth
The Assassin's Wife and the Quaker Woman Who Took Her In
By Thomas Mallon

[Originally published in The New Yorker, and reprinted by permission of Thomas Mallon. Excerpted from the book Mrs. Paine's Garage, Pantheon Press, a division of Random House]
---
Mrs. Ruth Paine in front of the garage in which was stored Lee Harvey Oswald's rifle.

On any day of the week, for twelve dollars, a visitor to the Florida International Museum, in downtown St. Petersburg, can enter the unlikely permanent home of "The Kennedy Collection," a display of some six hundred personal effects of the thirty-fifth President and his family, most of which were scooped up over the years by the President's personal secretary, Evelyn Lincoln. The museum promises that ticket-holders will "rediscover a thousand days that changed the world," by looking at J.F.K.'s doodles, combs, and wallet; Caroline's crayons; one of Mrs. Kennedy's jackets.

Supplemented with memorabilia from a trip to nearby Tampa that the President made in November, 1963, the St. Petersburg exhibit is a creepily intimate cornucopia that attracts a substantial number of visitors, who exit after viewing a wall of newspaper headlines about Kennedy's assassination, on November 22nd, along with the uniform worn by one of the policemen who captured Lee Harvey Oswald in the Texas Theatre. Not many visitors to the exhibition are aware, however, that just a few miles away, in southeast St. Petersburg, lives a woman whose life in 1963 was so enmeshed with the lives of Mr. and Mrs. Lee Harvey Oswald that she became the Warren Commission's most important witness. Ruth Paine, who is now sixty-nine, was then a Quaker housewife living in the Dallas suburb of Irving. She had offered the Oswalds hospitality and shelter when they needed it, and had come to know more about their movements and their troubles than anyone else. Her unwitting part in an American calamity ended up subjecting her to years of investigation and decades of suspicion.

When I visited Ruth Paine last year, she spoke softly, straining to recollect, her voice occasionally breaking. Her expressions and moods were plastic — girlish one minute, grave the next — matching the quick movements of her tall, still graceful figure. For someone grafted to history in such a particular way, she seemed to be almost disconcertingly in the moment. She has never gone to see the Kennedy exhibit: "It just raises too much grief."

As five-thirty approached on the warm Thursday afternoon of November 21, 1963, Ruth was driving her station wagon home from the store. A copy of a divorce petition, which she had filed eight days earlier, was right then being postmarked near the offices of her lawyer in downtown Dallas. The document noted that she and Michael Paine had been married on December 28, 1957, in Pennsylvania, and had had two children — Lynn, in 1959, and Christopher, in 1961 — before separating "on or about September 1, 1962." The breach between Ruth and Michael was almost too civilized, a sorrowful indication that his feelings for her lacked a romantic intensity that she craved and that he would begin to seek elsewhere. The divorce petition's boilerplate referred to Michael's "cruel and tyrannical treatment," but the marriage had never included anything like that, and whenever Michael now visited from his own apartment, in Grand Prairie, several miles away, he was full of temperate good will toward Ruth.

As she neared her home, at 2515 West Fifth Street, Ruth was surprised to find Lee Oswald and his Russian wife, Marina, playing with their twenty-one-month-old daughter, June, under the oak tree on her front lawn. On week nights, Lee stayed in a rooming house in Dallas, on North Beckley, closer to the book warehouse where Ruth had helped him get a job the month before; Marina and Junie and the Oswalds' infant daughter, Rachel, stayed with Ruth, and were joined by "Papa" on weekends. In contrast to the Paines, the Oswalds bickered with each other much of the time, but their separation was partial, temporary, and economic. Ruth expected the arrangement to last until Christmas, perhaps a little longer.

Lee's presence that Thursday afternoon was unusual. He never came out before Friday, and invariably called before he made the trip. As soon as Ruth parked the car, Marina came over to apologize for her husband's unexpected appearance. "That's all right," Ruth answered in Russian, which she had been studying off and on for several years. During the late nineteen-fifties, her interest in the language had been sustained by Quaker efforts to foster international good will, including the Young Friends' pen-pal program, which had been set up through its East-West Contacts Committee. Marina spoke only Russian, and, thanks to her presence in the house, Ruth found herself becoming more fluent in the language.

Ruth also spoke Russian to Lee, and as he entered the house, carrying some of her grocery bags, she repeated the local news: "Nash Prezident priezzhaet v gorod." Years later, Ruth Paine remembered him responding with no more than an uninflected "Da." Yet, despite his evident indifference, she knew that Lee Oswald had understood her to say, "Our President is coming to town."
Allan Grant/LIFE
The women in Lee Oswald's life (from left to right): Mother Marguerite holding infant granddaughter Rachel, Mrs. Ruth Paine, toddler June Oswald, and wife Marina. Photo was taken in Mrs. Paine's kitchen on the morning after the assassination.
As Ruth prepared supper, she heard no sounds of quarrelling from Lee and Marina — a relief. Three nights earlier, on Monday, Lee had harshly berated his wife over the phone. The dressing-down had been prompted by a call Marina had asked Ruth to make to WH3-8993, the number of Lee's rooming house in Dallas. He'd given them the number himself but had not told them that he had registered with his landlady as O. H. Lee, not Lee H. Oswald — the name that Ruth had asked for. Now he wanted the number erased from Ruth's address book.
Lee was erratic but strong-willed. A self-taught Marxist from adolescence, he had defected to the Soviet Union in 1959 after his discharge from the Marines, as he was turning twenty. The Soviets regarded him as more of a nuisance than a prize, and in 1962 he had come home to Fort Worth with Marina, disillusioned by his experience but still radically dissident.
Marina may have been upset by Monday's telephone incident, but she wasn't wholly surprised. Lee had fantasies of being a great man, a big shot, she explained to Ruth, who was aware of Lee's quixotic history; they drove him to play foolish games like this one with the alias. Her husband, without much education or many skills, should be sticking to the hard business of trying to support his wife and two little girls. Later Thursday evening, unbeknownst to Ruth, the Oswalds, without raising their voices, struggled at the edge of a marital cliff. Lee asked Marina three times to move back in with him. If Marina would agree, he promised to find them an apartment right away — tomorrow. And he would get her a washing machine, just like the one she'd become accustomed to in Irving. But each time Marina said no.
At dinner, Lee seemed to Ruth even more withdrawn than usual. Of course, language was always a difficulty. Lee didn't want his wife learning English. He claimed that, if she did, his own skills in Russian would atrophy. But the truth was that he liked Marina's being isolated and dependent on him. So he spoke Russian to Ruth as well. "It reduced our conversations," Ruth told me, "which was O.K. . . . I felt that's really how he wanted it, too. There wasn't much to say. I didn't want to get into any political stuff."
Ruth would have liked to go into Dallas the next morning to watch the President's motorcade. Three months earlier, while visiting her sister in Washington, D.C., she had passed up a chance to hear Martin Luther King, Jr., speak at the Lincoln Memorial because of the crowds. Now, for the same reason, she decided not to try getting a look at John F. Kennedy: "There always are questions of where do you park and how do you take care of the kids when you go in." So she and Marina stayed home, though she still says, "I thought it would be nice to see him."
Once the dishes were done, Ruth settled Lynn and Christopher down for the night in the rear bedroom, which she shared with them. After nine o'clock, she went out to the garage to lacquer some toy blocks she had made for the children. The garage was filled with the Paines' and the Oswalds' belongings, and as she entered, the clutter came into view: someone had left the light on. Ruth immediately got the feeling that Lee had been out there, probably when she had been tending to the children. Marina — who had been brought up frugally, and was mindful of being a guest — always remembered to turn off the light after going in there for her things.
Ruth threaded her way through the jumble. Boxes with Lee and Marina's possessions rested on the ground between a table saw and two chests of drawers; under the table was a blanket roll belonging to the Oswalds, which Michael, during his visits, had had to move a couple of times in order to work with his tools.
The day before, Ruth had driven Marina to the dentist; today, they'd got results of a clinic's t.b. test for Junie. For months, Ruth had taken care not to let her kindnesses to Marina make Lee doubt his own role as provider, however intermittently he might fill it. She wanted him to know that she got as much from Marina — the chance to hear and speak Russian, the companionship — as Marina was getting from her. Lee might be sullen and suspicious (if someone had asked Ruth, she would have admitted that she didn't much like him), but he was also capable of small, occasional sympathies. One recent weekend, the subject of Ruth's divorce had come up, and she'd been surprised to hear him say, with real feeling, that this must be a hard time for her.
Actually, though he did not tell Ruth this, Lee disapproved of Michael Paine's seeming indifference to his own family. Michael took care of them financially, but he left Ruth looking sad whenever he breezed in and out for supper. Lee had told Marina that he didn't consider Michael a good father, and after playing with his own girls Thursday night Lee made a point of playing with Chris Paine. The boy needed some extra attention from a man.
Lee liked to stay up watching television, but that evening he went to bed early, and by the time Ruth stepped back into the house, only Marina was still awake. The two women sat down together on the couch, and as they folded laundry Marina told Ruth that Lee's unexpected presence seemed motivated by a desire to patch up Monday night's quarrel.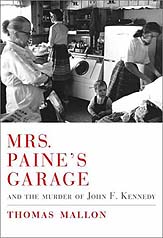 Buy the Book
Click on the image above to buy Mrs. Paine's Garage from Amazon.com.
Sometime between eleven o'clock and eleven-thirty, the two young mothers said good night to each other. Ruth had not had an opportunity to say good night to Lee, but the next day was Friday, the start of the weekend, and she could expect to see him after work.
When Ruth and Michael Paine moved to Irving, in 1959, they were not planting themselves in American-dream crabgrass so much as wandering deep into alien corn. Ruth had grown up in Ohio, attended Antioch College, and joined the Society of Friends in 1951. Michael, a Unitarian, was descended on one side from Robert Treat Paine, a signer of the Declaration of Independence, and on the other side from Ralph Waldo Emerson, his great-great-grandfather.
Like many newcomers to Irving — then the fastest-growing city in Texas — the Paines had been drawn by the area's boom in manufacturing and electronics, though Michael, an engineer, owed his job, at Bell Helicopter, to family connections. His stepfather, Arthur Young, had sold a patent on the world's first commercially licensed helicopter — which until recently hung above an escalator in New York's Museum of Modern Art — to Larry Bell in the nineteen-forties.
But the Paines were lonely in Texas. "I don't think I ever adjusted," Michael says today. Ruth missed her friends in the East, and was tired from having given birth to two children within fifteen months. Increasingly aware of Michael's lack of passionate feeling for her, she had also become preoccupied by her parents. Their thirty-five-year marriage had ended when her father committed her mother to a sanitarium for a period of treatment for paranoia and delusions.
Ruth had been studying Russian since 1957 — at Berlitz, on phonograph records, in summer classes at Penn and at Middlebury — and in February of 1963 Everett Glover, with whom she'd sung madrigals in Dallas, invited her to a get-together at his home. Among his guests, he told her, would be a young American who'd spent time in the U.S.S.R., and his Soviet wife, offering Ruth the chance to converse in Russian.
February 22nd fell on a Friday, one day after John F. Kennedy sent Congress his proposal for Medicare — the sort of social-betterment program that had kept Ruth an enthusiastic supporter of the President. Another item in that day's news — the attack by two Cuban aircraft on a drifting American shrimp boat — was the kind of story more likely to interest the guest holding forth in Everett Glover's kitchen. With a soft voice and a receding hairline, the twenty-three-year-old Lee Oswald appeared much less exotic than his experience, which he eagerly recounted to a small group of partygoers. They asked him, Ruth remembers, "why he went to the Soviet Union, and what his impressions were." Glover had not told her that the young man was actually a defector, but Oswald, then employed in the photo department of a graphic-arts company, spoke critically of the U.S.S.R.
"He really enjoyed being the center of attention," Ruth recalls. But that night she was eager to meet Oswald's wife, who was in the bedroom taking care of Junie. Ruth says of Marina, "I wanted to see if I could talk with her, if we could communicate." In the event, they managed to, though Ruth felt too embarrassed by her own Russian to say much.
She was taken by something in this girl, a decade younger and so far from home. Here was not only the chance to speak Russian but also an opportunity, then perceived only dimly, for Ruth, now separated from Michael, to alleviate her own loneliness. Both possibilities made her ask for Marina Oswald's address.
Ruth did not know that most of Dallas's small Russian-emigre community had given up on the Oswalds. They might still see Marina as one of them, but they had decided that Lee was a grandiose lout. Some had noticed bruises on his wife; if she stayed with him it was, finally, her problem.
Within a week of meeting Marina, Ruth sent a note to 214 Neely Street, where the Oswalds lived. In reply, Marina thanked her twice for "not forgetting us." The two women got together in March, twice in Dallas and then in Irving, and introduced their children to one another. "You don't know how much I enjoyed being at your home and in your company," Marina wrote afterward. "I say this sincerely, without flattery. And not only because I don't get to go anywhere, but also because I feel at ease with you as at home."
On a Tuesday in early April, Ruth arranged a supper in Irving, at which Michael and Lee could get acquainted. "I regretted that I hadn't had a chance to meet this fellow," Michael recalls. He drove into Dallas to pick up the Oswalds, who had no car, and his first impression of Lee was not especially good: "He was speaking to [Marina] in Russian, scolding her, I think, for being slow to be packed up [with the baby's things]. . . . And I think I told him that Ruth was not one to get too upset about being a little bit late."
Oswald was curt with Marina throughout dinner. Michael remembers that Lee complained that his boss at the photo shop got paid enough to own a Chrysler. The subject of Edwin A. Walker, the rabble-rousing segregationist general, also came up briefly. "It would have been hard to avoid talking about Walker at the time," Michael now points out. The general was both a local and a national celebrity, and a "peculiar smile" crossed Oswald's face at the mention of Walker's name. But Michael didn't pursue the topic: "I was wanting to get along with this fellow." Ruth had already allowed a dislike of Oswald to form. "I think he was pretty satisfied with his view of how life was, in the sense that he had figured it out," she says.
Over supper, Ruth said nothing about a distressing piece of information that Marina had imparted during a March visit: Lee wanted to send his newly pregnant wife back to the Soviet Union. Already trying to figure out how she might help to avert this, on Sunday, April 7th, Ruth drafted a letter to Marina, which she didn't intend to mail but whose composition would help her find the Russian words for an offer she wanted to make:
I want to invite you to move here and live with me both now and later when the baby is born. I don't know how things are for you at home with your husband, I don't know what would be better for you, June and Lee — to live together or apart. It is, of course, your affair, and you have to decide what is better and what you wish to do. But I want to say that you have a choice.
In exchange for Marina's help with Russian, Ruth would pay for groceries and incidentals; Lee could cover his family's medical expenses and clothes. Marina could sleep with Junie in the front bedroom, and perhaps help a little with the housekeeping.
The idea was bold — Ruth had seen Marina only a handful of times — and somewhat dangerous, too. She remembers feeling that if she made the offer, and Marina accepted it, she would "be taking on some of the role of support that [Lee] would feel was his, and I wanted to be sure he didn't feel undercut or supplanted in any way by my actions." Later on in the letter, she put the matter gently, encouraging Marina to regard the two of them as being in a similar situation: "I don't want to hurt Lee. Of course I don't know what he wants. Perhaps he feels like Michael, who at one time wants and doesn't want to live with me."
According to Ruth's date book, she and Marina may next have visited on April 11th. If they did in fact meet, Marina did not disclose that the man responsible for that week's big news story — an attempt to assassinate General Walker — was her husband. She learned this the night of April 10th, after Lee had left the house on his mission and she found a list of written instructions about what she should do if he were captured. She said nothing to Ruth, and she held on to the incriminating list, knowing that it might one day provide useful leverage against her husband.
By the middle of April, Lee, having lost his job at the graphic-arts company, decided to look for work in New Orleans, his birthplace, and where he still had family. Ruth learned this on Wednesday, April 24th, when she arrived at Neely Street to visit Marina and found Lee headed for the bus station. His plan was to have Marina join him in Louisiana once he found a job. He had a cumbersome load of suitcases and duffelbags, so Ruth offered to drive him to the terminal, off Dealey Plaza.
She took the opportunity to suggest that Marina and Junie stay with her until Lee was ready to call for them — an arrangement that suddenly suited everyone's convenience and pride. For his part, Lee had a compelling reason to get out of town (the police were still looking for Walker's would-be assassin), and he did not object to Ruth's offer.
---
If the prose of Thomas Mallon reveals the character of Ruth Paine and the nature of the Paine household, so do the pictures of photojournalist Allan Grant. Grant, with fellow LIFE Magazine staffer Tommy Thompson, arrived at the Paine household on the evening of the assassination, and then on the following morning returned to spirit away -- out of the reach of competing journalists -- Marina, her two children, and Lee's mother Marguerite. The following are some of Grant's photos: In the journalistic hurly-burly following the assassination, only one of Grant's photos was published in LIFE.
---
Soon after Marina moved in, Ruth wrote her mother and told her what good company the younger woman was, even if Ruth's still imperfect Russian made communication laborious. Ruth and Marina worked hard, but this brief period, little more than two weeks, stood out as a kind of idyll, a respite from male boorishness and inattention. It came to an abrupt close on May 9th, with a phone call from Lee. He had found work — an unpleasant job greasing coffee machines — and he wanted Marina to come to New Orleans.
"Papa nas lyubit!"-"Papa loves us!"-Marina exclaimed to Junie. "I don't know what drew them to each other," Ruth told me, but she could "see there was a bonding" between husband and wife, and she took pains not to dampen Marina's enthusiasm. Ruth did not know about Lee's violent tendencies, particularly his abuse of Marina, and a day after Lee's phone call she drove Marina and Junie the five hundred miles to New Orleans.
Ruth and her two children spent three nights at the apartment that Lee had found, on Magazine Street. The trip left a few pleasant memories — some sightseeing at Lake Pontchartrain — but Ruth was unsettled by cockroaches, and by bickering. She and the children slept on pallets and "kind of made a ring of bug spray" around themselves. Marina, having had a spell of modern suburban comforts in Irving, seemed less impressed than Lee was by the apartment, and began picking at her husband over things like his attempt to make wine from blackberries. "She certainly did get irritated and speak back very sharply to him," Ruth recalls. "And, of course, having better facility in Russian, she usually got the better of a verbal argument."
For all their volatility and poor financial prospects, the Oswalds seemed likely to settle in New Orleans, and soon after returning to Texas Ruth began to miss Marina's company. Her first letter to Marina describes matters as humorously as possible:
Home again, and everything as usual: the floor must be washed, and dishes, clothes. Especially dull after our visit which was interesting and unusual . . . . Michael didn't call to ask about my trip and finally I called him at work since he never was at home in his apartment. Today I'm angry with him and intend to go to New York to look for a lover! He loves his machines — and that's all!
Marina's situation was no better. She replied to Ruth on May 25th, "As soon as you left all 'love' stopped, and I am very hurt that Lee's attitude toward me is such that I feel each minute that I bind him." She recognized a fundamental unhappiness linking her to Ruth: "Lee has said to me that he doesn't love me — so you see we came to mistaken conclusions. It is hard for you and me to live without a return of our love — interesting, how will it all end?" There was supposed to be a practical aspect to the correspondence: Marina would correct the Russian in Ruth's letters and return them to Texas. But the emotional interchange outweighed the linguistic one.
Ruth soon began asking whether Marina might like to return to Texas to give birth to her baby, which was expected in October. Her desire to bring Marina back became pressing in the second week of July, when, after a busy period that included visits from both her mother and her father, Ruth reread Marina's correspondence and noticed something she had overlooked: mention of Lee's renewed insistence that his wife return to the Soviet Union.
Alarmed, Ruth asked some Quaker and Unitarian connections in New Orleans to check on Mrs. Oswald, and, with Michael's help, she sketched out financial arrangements under which Marina might come to Irving. In a letter dated July 11th, Ruth wrote:
I don't know how Lee feels, I would like to know. Surely things are hard for him now, too. I hope that he would be glad to see you with me where he can know that you and the children will receive everything that is necessary, and he would not need to worry about it. Thus he could start life again.
The following day, she wrote again, to suggest that Marina couldn't be forced to go back to the U.S.S.R., but mostly to say, "I love you Marina, and want to live with you."
Marina was afraid to discuss the Texas invitation with Lee. She tried instead to assure Ruth that things were better between them ("for a considerable period he has been good to me"), promising to keep Ruth's offer as an ace in the hole, should Lee again treat her badly: "Sweet Ruth, I am so thankful to you for your good and sympathetic heart."
Ruth had always been a confident traveller, and in the late summer of 1963, with her children in tow, she zigzagged from Texas to New England, then to the Midwest and down to the Deep South. She followed a complex itinerary designed to connect her with an array of family members and old friends as well as new, self-imposed obligations.
Late in August, Marina sent a letter to Paoli, Pennsylvania, where she knew Ruth would be stopping. Marina mentioned that Lee was once again out of work, but hoped that "everything will clear up, right?" She looked forward to a visit from Ruth, which was set for the third week of September.
Ruth arrived in New Orleans on September 20th, after a detour through Birmingham to pay her respects at the just-bombed Sixteenth Street Baptist Church ("I felt I could explain it to my kids, sort of"). Marina, despite her husband's unemployment, seemed cheerful, and she wanted Ruth to have a good time. She proposed a tour of Bourbon Street, without Lee. "It was so obvious that we were out of place," Ruth recollects. "A pregnant mother and her baby, and a mother and her two small toddlers, peering into the doorways. And the people peered back with a good-grief-what-are-you-doing-here look on their faces. So we didn't stay very long."
In the event, far from feeling threatened, Lee "seemed relieved . . . to have [Marina] come back with me, and to know that I could translate to get her into the hospital, things like that." He let Ruth believe that he was going to look for work in Houston or maybe even in Philadelphia. But Marina knew the truth: once she and Ruth were gone, Lee would head for Mexico City to apply for a visa to Cuba, where he could offer himself to Castro's revolution. She said nothing to her friend.
Ruth remembers Lee being unusually helpful two days later, when it came time to load the station wagon. The back of it was soon full of Marina's belongings and his own, which, it was understood, he would come for at some point. Oswald seemed genuinely sad to say goodbye to his devochki ("girls"). Marina let out a cheer when she crossed the border into Texas, telling Ruth, somewhat to her surprise, that she thought of the state as her home. After a night in a motel, the women continued on to Irving, where Michael Paine was on hand to help unload the car. Among the things that were carried into the garage was a securely tied green-and-brown blanket roll, which contained a bolt-action Mannlicher-Carcano rifle. The only adult there who didn't know that Oswald owned a gun was Ruth — the one person who wouldn't have allowed it in the house.
On October 4th, Ruth Paine donated blood at Parkland Hospital, where Marina would soon be delivering her baby at reduced cost. Later that day, Lee Oswald surprised his wife with a phone call announcing that he was at the bus station in Irving. Oswald's call ended another two weeks of near-constant companionship between Marina and Ruth. The absent father-to-be maintained to Ruth that he'd spent the time hunting for work in Houston. He had actually come from Mexico City, where he'd been denied a visa to Cuba. When he showed up in Irving, he looked defeated.
Now prepared to look for work in Dallas, Lee got himself a room in the Oak Cliff neighborhood, near downtown. He would visit Marina on the weekends, if that was all right with Ruth. Once he was on his feet, perhaps after Christmas, he would get an apartment big enough for himself, his wife, and two children. Ruth supplied Oswald with a Dallas street map, though his search for work was hampered by his inability to drive. She even tried to get him a learner's permit, and gave him lessons in her '55 Chevy.
Lee did seem to be making an effort. Ruth never expressed herself more positively about Oswald than in a letter to her mother on October 14th. During the two previous weekends, she wrote, Lee had proved himself "a happy addition to our expanded family. He played with Chris, watched football on TV, planed (filed?) down the doors that wouldn't close, and generally added a needed masculine flavor. From a poor first impression I have come to like him." Ruth's feelings were mostly based on hope. On Saturday, October 19th, she wrote to her father that Lee had shown himself to be a "fine family man after all."
He had earned the title by taking a job. "Minimum wage & nothing special about it," Ruth reported to her mother, but she was pleased to see him happy. She had provided the successful lead, but, characteristically, took no credit. On the morning of October 14th, she and Marina had had coffee with a neighbor, Linnie Mae Randle, who mentioned that the Texas School Book Depository, where her brother worked, was hiring. Ruth had made a call to Roy Truly, the manager of the warehouse, to get Lee an interview. Lee pleased his potential new boss by calling him sir. On Friday night, when Lee came out to Irving after his third day at work, Ruth had a cake ready for his twenty-fourth birthday.
For two weeks, Ruth had been seeing to the needs of five people, not counting herself, and trying to engage in as much long-term thinking as the situation would admit. She had even briefly considered the idea of putting a trailer in the back yard, should the house still be so full in February, when her mother planned to visit.
The Oswalds' second daughter was born on Sunday, October 20th. Ruth was at the hospital; the "fine family man," afraid that Parkland would present him with a bill, had stayed in Irving. Ruth didn't blame him for this; he may have had a job, but he had little money, and Marina would be home in forty-eight hours. The baby was named Audrey Marina Rachel, the first name for Audrey Hepburn, the star of "War and Peace," which Marina and Ruth had seen together; Rachel was for a niece of Ruth's, and it was this third name that stuck.
As the two mothers went about their weekday tasks, Ruth sensed a certain distance in her companion. But the women were too busy with the babies to be much bothered by conversational gaps, which Marina sometimes filled with talk of plays and movies, retelling the plots of ones she'd seen years before in the Soviet Union. This love of entertainment left her vulnerable to Lee's frequent charge that she was "bourgeois." So did her appreciation of Ruth's appliances. "We liked comfort!" Ruth remembers, laughing at the memory of Oswald's scorn. The young Marxist also objected to the way Marina cooked his potatoes and ironed his shirts. "Picky, picky," says Ruth, who still remembers the complaints, even if Lee, when he was in Irving, could no longer make them violently, as he had done on Neely Street. Both the Paines continually found themselves struck by Lee's lack of logic, and Michael remembers the young man's emotional inability to connect with potential friends. "The world was kind of cardboard for him," he says.
It was not until a 1993 interview, for a CBS documentary broadcast around the thirtieth anniversary of J.F.K.'s assassination, that Michael told a reporter, rather casually:
Obviously [Oswald] liked guns. I went one afternoon to pick him up, went upstairs, and I think the first thing he did, practically, was pick up this photograph of himself — eight by ten — holding his rifle there and some papers. I was a little startled. I suppose he was looking for a big revolution.
The statement went unremarked upon, though Michael Paine was admitting something he had never told either the Warren Commission or his wife: that, on the first evening he met Oswald, at the apartment on Neely Street, he discovered that Lee had a rifle; Lee had shown Michael the picture of himself brandishing it in one hand while holding two Communist newspapers in the other.
Did Michael deliberately withhold this information from the commission? "No, no," Ruth says; he's "far too honest" for that. She concedes that "he should have brought it up" in 1964, and laughs uneasily about how it would have been "nice" for him to tell her before November 22, 1963. But "probably he didn't consider it very important." She claims that, in the several years since someone told her about this interview, she cannot remember ever asking Michael about the incident, though they were in communication. The assassination, she says, has always been doubly hard to deal with, intertwined as it was "with the difficulties in my marriage, and the separation." No harsh word about Michael ever escapes her, not even when she's persuaded to discuss this very worst conjunction of the historical and the personal.
When I visited Michael Paine, in August of 2000, at his home, in Boxborough, Massachusetts, he was quite sure about having seen the photograph of Oswald in April of 1963, but he says that he didn't remember seeing it until it was put in front of him, in 1993. In any case, he says, it was only after the assassination that he realized that his Quaker wife was "so allergic" to guns that "she would have forbidden [Oswald] to have the rifle in the house."
But if, in the spring of 1963, Michael had mentioned the photo to Ruth, it is reasonable to believe that Lee Oswald would not have been welcome at 2515 West Fifth Street the following October, and that Ruth would not have had occasion to provide him with the job-hunting tip that put him above Dealey Plaza at 12:30 P.M. on November 22nd. "Could it have made a difference?" Ruth's voice trails off after asking the question.
"I have no recollection of him at all on the morning of November 22nd, except an empty coffee cup," Ruth said of Oswald to the Warren Commission. Lee had made himself some instant and left his cup in the sink. Ruth never heard him shower or close the door when he left to catch a ride to the book depository with Linnie Mae Randle's brother.
Marina Oswald, typically the last adult to rise at 2515 West Fifth Street, remained asleep when Ruth turned on the TV to watch a Chamber of Commerce breakfast that the President was attending at the Hotel Texas. One camera focussed on the dais, another on a doorway. Awaiting Kennedy's arrival, a WFAA reporter filled time by mentioning the day in 1901, in Buffalo, when the anarchist Leon Czolgosz shot President William McKinley.
At nine-ten, John F. Kennedy appeared on the screen. Ruth suddenly realized what time it was and hurried to get Lynn to a nine-fifteen appointment with the dentist. Knowing that Marina would enjoy the spectacle of the Kennedys arriving in Dallas, Ruth left the television on when she drove off.
There were errands to run after the dentist, and she didn't return home until after noon. The TV cameras had lost sight of the President's motorcade after its departure from Love Field. There would be nothing more to see until Kennedy's speech at the Trade Mart, at twelve-thirty, and so Ruth went into the kitchen to make lunch. When she heard the bulletin of the shooting, her reaction was immediate: That's it for Texas. I'm going back to Philadelphia.
Like most politically aware people who had seen the previous month's news photos of Adlai Stevenson being jostled and spat upon in Dallas, Ruth initially assumed that a right-wing extremist had shot the President. She instantly sensed that her world would be altered by the deed, but she had no idea that she was one of a handful of people whose lives had truly been torn in two.
Allowing Lynn to help, Ruth began lighting some candles, explaining to Marina, to whom she'd translated the bulletin, that this was her own way of praying. Even as Kennedy lay in Parkland Hospital, work went on. Marina hung laundry in the back yard. Ruth soon joined her there with further news: the shots fired at the motorcade were now thought to have come from the Texas School Book Depository. Lee, presumably, would have quite a story to tell when he arrived home.
Without explanation, Marina left Ruth to finish hanging the clothes, while she went back into the house and then the garage. She wanted to make sure that Lee's blanket containing his rifle was where she'd last seen it, a few weeks before. To her relief, the bundle appeared to be in the same place.
Soon afterward, while the two women sat on the couch in front of the TV, Ruth had to translate the news that Kennedy had died. She and Marina talked about the awful fate that had just befallen Jacqueline Kennedy and her two children, so close in age to Ruth's own. Marina apologized for not crying, a reticence that Ruth attributed to her personality.
Someone knocked on the door. Ruth answered it and was confronted by a group of law-enforcement officers, including men from the Dallas County sheriff's department. She thought that they were there to serve papers in connection with her divorce, until one of them announced that Lee was in custody, charged with shooting a policeman. When the officers said they wanted to come in, she managed to ask if they had a warrant. They assured her they could get one right away. "That's O.K.," she told them. "We're all upset. Come on in."
Ruth thought that "they'd come in and sit on my sofa and talk to me." Instead, "six guys spread out all over the house right away, like water." They asked whether Lee owned a gun, and Ruth said no. She translated the question to Marina, using the Russian word for "long gun" because that was the only one she knew. Yes, Marina responded, to Ruth's astonishment, Lee did have a gun. Marina then led the way to the garage. No mention had yet been made of the President; only of a murdered patrolman. But Ruth now understood what this was really about.
When I asked her, nearly forty years later, to reconstruct what happened in the garage, Ruth groaned, before saying that Marina "showed this blanket roll, which was on the floor. The officer picked it up, folded it over his arm. It was empty. He didn't even have to open it. You could see it was empty. That was when I had this feeling, My God, it could have been Lee — that he came out last night, that the gun had been there. . . . That was probably the worst moment."
Within minutes, the police were hauling off boxes of the Paines' and the Oswalds' belongings, while Ruth protested in vain. A neighbor, Dorothy Roberts, watching this front-lawn drama, which must have resembled an eviction, thought that she had never seen Mrs. Paine so angry. One policeman grabbed Ruth's arm; another threatened to take her children "to Juvenile" if she and Marina didn't hurry up and come downtown with them. She turned to her daughter and said evenly, "Lynn, you may go with us." No one went anywhere until a babysitter was found for Chris. Once in Dallas, Ruth irritated the police further when, before signing an affidavit they had composed from her oral statements, she corrected its English. Inside one of the confiscated boxes was an essay from her Antioch days in which Ruth Hyde had mused, "I don't act like a rebel very much, but I have always enjoyed a great deal of personal freedom and find I bristle and rally forces of resistance when it is taken away."
Still, from these first chaotic hours, Ruth cooperated openly, and her compliance stands out. As the police car headed from Irving to Dallas, an officer in the front seat turned to her to ask, "Are you a Communist?"
"No," she replied, "and I don't even feel the need of the Fifth Amendment on that one." She translated the question to Marina, who, sitting beside her in the back of the police car, seemed "very quiet at that point," and "not just because of the language difficulty."
At the police station, Ruth was taken up with Marina's needs, particularly her need for a translator, no matter what new suspicions Ruth might be entertaining about her companion. On Friday night, with the world's press descending on the Police and Courts Building, the Paines were about to become involved with the rest of Lee's family, starting with his older brother, Robert, a sales coordinator for the Acme Brick Company, in nearby Denton. Robert later recalled the encounter in his 1967 book, "Lee." He wrote, "I felt that [Mrs. Paine] was stimulated by the drama of the moment and her rapid comments to everyone who would listen struck me as almost boastful: 'I've had them over at my house,' she would say to anyone who did not seem to recognize how close she had been to the center of tragedy."
This exaggerated behavior actually reflected Ruth's tendency to be helpful, to almost anyone, in whatever circumstances, including the adversarial and the bizarre. That afternoon, when the police came to the house, Ruth had begun "to realize that they had no clue . . . what kind of people we were." Both the Dallas police and Robert Oswald saw the Paines as very odd characters for those parts. And what yesterday had looked merely eccentric, now seemed decidedly sinister.
Also present on the police station's third floor Friday night was Lee's mother, Marguerite, who had come from Fort Worth, and ceaselessly wrung her hands over what she insisted had been a life much misunderstood — her own. The Paines and Marina returned home with Marguerite around 9 P.M.
West Fifth Street showed few signs of disturbance. Life magazine was briefly on the scene, but the news media, barely yet known by that term, were otherwise not much in evidence. Ruth and Marina put the children to bed.
Marguerite was proving a difficult guest: she had been annoyed by a Life photographer whose lens had caught her with her stockings rolled down, and was peeved at the apparent centrality of Marina and Ruth to this possibly lucrative event. She, after all, was the mother.
Ruth's last waking thoughts on November 22nd involved her daughter and son. She remembers telling herself, " 'You know, you've really got to get to sleep. Don't obsess about this. You've got to sleep. . . .' My main worry, I guess, was how can I make this as easy for my children as possible?"
That night, in the other bedroom, Marina showed Marguerite, whom she hadn't seen in a year, two photographs from Junie's baby book. They depicted not Junie but Lee, outside the Neely Street apartment, holding a rifle and copies of both The Militant and The Worker. They were photographs that Marina herself had taken, back in March, at Lee's insistence.
Marguerite implored her, with gestures, to keep the photos from Ruth. The next day, while visiting Lee in jail, Marina hid them in her shoe. Later, she burned them, not knowing that Lee had been sufficiently proud of the pictures to make numerous prints at the graphic-arts firm where he had then worked.
On Saturday afternoon, the day after Kennedy was shot, Oswald, still insisting that he was just a "patsy," called the house and asked Ruth to get in touch with John Abt, a defense lawyer in New York who took on left-wing causes. Ruth was astonished by Oswald's temerity in asking a favor of her — someone whose life he had just thrown into chaos. Still, she tried, unsuccessfully, to reach the attorney. "If I'd been smarter," she says today, "I'd have said to him he needs somebody now. 'Get a temporary guy.' Didn't think of that."
Lee called again around nine-thirty that night. The last words that Ruth ever heard from him were a request to speak with Marina. But his wife had left that morning with his mother, a translator, and Thomas Thompson, a reporter from Life. Oswald insisted that Marina should be available to him. So, Ruth remembers, she called a hotel and asked for Thompson's room; Marguerite Oswald answered the phone. "I said, 'I'd like to talk to Marina.' 'Well, no, you can't talk to Marina.' And I said, 'Lee has called me and he wants to be able to reach her, and he doesn't know how to do that.' And she said, 'We really can't be too concerned about what Lee thinks at this point.' And that was pretty much the end of the conversation."
Personal legal jeopardy scarcely seems to have crossed Ruth's mind. She never retained a lawyer for herself, and it was mostly out of curiosity that she asked an F.B.I. agent, Bardwell Odum, whether her phone line was being tapped. She recalls him saying, "Mrs. Paine, you answer the questions we have; why would we put a tap on your line?" She says she "let it go at that, which was not good enough, you know. He didn't answer the question. So my guess is, yes, that they tapped the line. But I wasn't worrying about it. . . . I saw it as part of their job."
Ruth today acknowledges that she was naive about the possibility of her own arrest. She remembers what she did when the police returned on Saturday, with a warrant: "I was on my way to the grocery store . . . and at that point I was feeding apples to newsmen, too — a lot of folks comin' through. . . . I didn't want it to interrupt my life, so I went ahead to the grocery store, leaving my home untended to the Dallas police, which was bizarre, to say the least. . . . That was not smart, or not appropriate, but it didn't hurt me."
During some of her errands, Ruth asked Michael to watch the house. If she was about to lose Marina, she stood the chance of regaining her husband: Michael was ready to move back in, for the sake of solidarity during this dangerous time and also for an immediate, practical reason — his landlady wanted him out of his apartment in Grand Prairie, at the request of other tenants, who had learned of his connection to the assassination. Michael was edgy enough to call the Irving police and ask for a round-the-clock guard for the house. The request was denied, but four decades later, when Ruth is informed of this protective gesture for the first time, she says, "Oh, really?," sounding distinctly pleased.
The police may have blocked off West Fifth Street, which Ruth remembers as still being, remarkably, "calm and quiet." That changed briefly, just before noon on Sunday, when Jack Ruby shot Oswald during his transfer to the Dallas County jail. Ruth sat on the couch, watching developments on the television, which stood near a large front picture window. Through the window, she observed an Irving police vehicle. Suddenly, she noticed an officer
get out of his car, go to the trunk, and get out a long gun, a rifle, and come in toward the house. . . . He wanted to come in; I said he could come in, and he proceeded to close the curtains on this one large window at the front; and there were two in the back — I mean, this is a real open house — and he closed those and he peeked out. . . . He clearly had gotten a message to come in and protect Mrs. Paine and see who else was going to be killed off.
Marina called from a hotel, where the Secret Service had her in protective custody. She asked if Ruth would assemble some things she needed for herself and her daughters. Not a word about Lee. Marina was passing out of her life, and the impersonality of the telephone conversation only exaggerated the distance that Marina had been keeping all along.

Ruth felt relieved when she learned that Lee Oswald had died, because she believed that Marina's life would be easier without him. She never gave a thought to going to Oswald's funeral until she learned, afterward, that his wife had had no one to translate the service for her. She tended to see Marina, not John F. Kennedy, as the catastrophe's focal point.

But despite Oswald's responsibility for the calamity that affected her so profoundly, at no time before his death did Ruth ever lose sight of his rights. She had made the call to John Abt and, along with Michael, refrained from giving any television interviews until shortly after Lee had died, when she spoke to an ABC reporter. In a fuzzy, overduplicated film of her conversation, Ruth sits on the living-room couch beside a big decanter-shaped lamp, a microphone looped around her neck. Looking well groomed but exhausted — the doorbell rings during the segment — she tells the reporter that she "was surprised to learn [Lee] had a gun," and that she never imagined him as fanatical or dangerous. Prone to self-victimization, yes; but she had hoped that, eventually, "he might feel that life was generous." In the summer of 2000, Ruth reflected, "I think, of people this kind of catastrophic event could happen to, I'm probably better off than most, because I feel the world is a kindly place and it'll treat me O.K., that there may be chaos around, but I'll come out O.K."

By the Sunday night after the assassination, Ruth had already begun to get encouraging phone calls from people in her life; later, she received supportive letters. Mostly, she waited for things to get better, and particularly for the resumption of her friendship with Marina.

On Thanksgiving Day, November 28, 1963, Michael Paine's mother wrote to her daughter-in-law to express relief that "the Secret Service had taken the poor girl off your hands." Still, Mrs. Young remained distressed by the emotional connection between Ruth and Marina, and, more particularly, the association of the two women in the public mind. She wanted Ruth to "simmer down," to realize that her responsibility to Marina was over, and to "quietly remove yourself from the public eye and ear, or you will unnecessarily tie yourself, the children and Michael for life to a most disgraceful and horrible event." Most dangerous of all, from Mrs. Young's point of view, was the impression in the newspapers that Ruth had given no "thought to the enormity of the loss of Kennedy," only to Marina's plight.

Ruth today recognizes how excessive her preoccupation with Marina must have looked, recalling the shocked appearance of a Times reporter when, after Lee's death, she told him, "Well, at least Marina won't have to testify." Even Gerald Ford, after serving on the Warren Commission, wrote, in "Portrait of the Assassin," "Ruth's anxieties over Marina's well-being would create another plot theory which, when added to all the rest, became a spider's nest of apparent machinations."

As things turned out, Ruth's worries and efforts were largely beside the point. The country showed itself spontaneously well disposed toward Marina Oswald — in part, perhaps, to prove how "big" it was. Americans embraced this pretty daughter of the Soviet enemy, and sent her money. As Marina's needs rapidly changed, Ruth's help began to involve such things as forwarding interview requests from foreign magazines, one of them offering ten thousand dollars.

Yet she wasn't even sure where her friend was. Early on, Ruth attempted to communicate with Marina through the Irving police, but she received no answer. "I am afraid," Ruth wrote, "that you never want to see me again. It is true, we have horrible memories. It is probably better that we do not live together again. But we are sisters, whether we want to be or not. Sisters in misfortune. I want to see you sometime." Ruth still remembers her uncertainty and sense of rejection. "That was a terrible time," she says. Marina "could have written me a letter saying 'Back off,' in response to my several letters asking how things are going. She never did that. She finally sent a Christmas card [with] zero content."

In fact, the card was worse than nothing at all. "You wrote me," Ruth responded, "as if I were an old grandmother and not a friend. You closed your face to me. Is it true, have I offended you? If so, excuse, forgive me, please. I did not want to offend and do not wish to. But I am coarse and stupid, especially in Russian." This painful self-abasement, so like that of the baffled, discarded lover, extends to Ruth's reiteration of how Marina's presence in Irving was never a matter of charity. "How many times have I said when you were here, that I was giving nothing more than I received. You never understood how useful it was to me to speak Russian every day." She was by then trying to convince Marina of what she'd once hoped to convince Lee.

Ruth consulted Marina's lawyer, John Thorne, of Thorne & Leach — a bad-joke legal name that she can laugh over today — "about the fact that the checks that I wrote to Marina to transfer cash money that had come to me for her were coming back with someone else's handwriting on the back. And he was absolutely unhelpful. 'If Marina wants to contact you, she will contact you directly.' "

But Ruth persisted. Week after week, she continued to write to Marina. On January 3, 1964, she invited her to come by for a meal, adding, "You can ask me not to speak about something and I will not. Not even to Michael if you prefer. But in general I don't want to know anything except that you are free, that you know your rights." She enclosed pre-assassination photographs of Junie and new ones of Chris. A week later, with the desperation of the jilted, she said that she was even willing to keep writing without response.

To the suggestion that she and Marina had a lesbian attachment, Ruth today replies, with a laugh, "No, that hadn't occurred to me!" She acknowledges that, in 1963, she was "very lonely in Texas," and that her own vulnerability pushed her into aiding this foreigner; but what she still hears, in the apparently romantic tone of even the pre-assassination letters, is an attempt to reassure the younger woman, who "doubted her acceptability" and her worthiness of Ruth's assistance. "I was trying to say, 'We can be friends here.' "

Later that January, Marina replied to an inquiry that Ruth had made about her through the Dallas Civil Liberties Union. She said that she was grateful for the Secret Service's protection, and that although she considered Ruth "one of my best friends," now was not the time to see her: "When I feel I'm ready, I would with pleasure like to see Mrs. Ruth Paine, who is a very nice person. I hope you understand I lived in a stranger's house and I would not want to inconvenience anyone as kind as Mrs. Ruth Paine with visitors I be sure to receive and also I give much time to visits with the F.B.I."

Yet Marina still made no effort to get back in touch with "one of my best friends." Ruth was not deterred. On January 23rd, she wrote:
I requested a new Sears Roebuck catalog for you (Spring-Summer). I have it here at home. I also have some glass (baby) bottles and your bath powder.
On February 3rd:
I saw your interview on television. You have learned a lot of English. From this (TV) appearance all will know (as I already know) that you are very nice, love your children and are grateful to people. . . . Phone, please, Marina.
On February 9th:
I can come by to pick you (and the children) up when it is convenient, and we can spend a day here as we did in April. I am not afraid of the newsmen. Let them ask: "Well, what happened when you saw Mrs. Oswald?" — "Oh, we talked about children as usual."
"I have never understood it to this day," Ruth says of her estrangement from Marina, though she now realizes how, within hours of the assassination, the Russian woman had begun amassing grievances with the imaginative energy of her mother-in-law, Marguerite. A month after having told the Dallas Civil Liberties Union that Ruth remained a good friend, Marina told the Warren Commission this about Mrs. Paine:
She liked to be well known, popular, and I think that anything that I should write her, for example, would wind up in the press. The reason that I think so is that the first time we were in jail to see Lee, she was with me and with her children, and she was trying to get in front of the cameras, and to push her children, and instructed her children to look this way and look that way. And the first photographs that appeared were of me and her children.
When I read this testimony to Ruth, decades later, she reacted with deliberate calm: "Wow. I've never read that. . . . It surprises me that she didn't think of me as somebody she could trust."
On November 30th, Ruth sent Marina, via the Dallas police, letters and baby clothes and her copy of "Kniga Poleznykh Sovetov," a book of Russian housekeeping advice that Lee had given Marina for a twenty-first-birthday present. Ruth thought that the book would make Marina less homesick; she did not know that, folded inside, was the note that Lee had left for Marina at the Neely Street apartment on April 10th — just before he went out to shoot General Walker.
The note contained eleven numbered points, informing Marina that the rent and gas were paid up; telling her where to find his post-office box; instructing her to send to the Soviet Embassy any press clippings that might result from this independent bit of revolutionary action. The note concluded, "If I am alive and taken prisoner, the city jail is at the end of the bridge we always used to cross when we went to town."
For seven months, Marina had kept the list as a kind of insurance policy against further violent behavior by her husband; its discovery by the Secret Service, which inspected the book that Ruth sent over, linked Lee, for the first time, to the Walker shooting. Suddenly, the authorities saw new reason to be suspicious of Oswald's cooperative widow — and of Ruth herself. On December 2nd, two Secret Service men came to Irving and exhibited the kind of excited hostility that Ruth had not experienced since the Dallas police first showed up, ten days earlier. "One of them was their Russian-speaking person," she remembers. "He led off, in Russian" — perhaps a hostile gesture or an investigative trick — "and showed me this piece of paper, and said have I seen this, and I said no; and do I know who wrote it, and I said no . . . and he said, 'Well, Mrs. Paine, you sent this to Mrs. Oswald.' And I said no, no. And we went back and forth quite a bit. It was one of the worst moments, I would say, in the whole time for me. Because he was the first and essentially has been the only [law-enforcement figure] to call me a liar."
Even after realizing that Marina had withheld her knowledge of Oswald's attempt to kill Walker, Ruth continued her quest to reestablish contact: she sought to understand the fear that might have motivated her friend. Yet she did concede to Bardwell Odum, the F.B.I. agent, that keeping this secret was a "moral failing" on Marina's part.
Three days after being confronted with the Walker letter, Marina dispatched her lawyer, her business manager, and her brother-in-law to Irving to pick up whatever remained of her and Lee's possessions. Ruth and Michael helped load them into Robert Oswald's car. Robert, in Ruth's recollection, was not unpleasant that day, but he continued to mistrust Michael Paine, whose own inquiries about Marina he found irritatingly persistent.
Robert began seeing a lot of his sister-in-law. On long drives out to the cemetery where Lee was buried, he and Marina "might talk about almost any subject," he wrote in his book, but on the way back the topic was always Lee. Marina convinced him that she had loved his brother, and Robert more or less brushed off her knowledge of Lee's "earlier violent acts," including the Walker shooting. "I think she kept quiet about them because she hoped that Lee would gradually settle into a normal life." Before too long, Robert asked her to move in with his own family. When Ruth drove there, in one more attempt to renew contact with Marina, Robert's wife, Vada, greeted her through the screen door but did not invite her inside or permit her to talk with anyone else.
Ruth, understanding that Robert had been swept into the assassination disaster as accidentally as she had been, has always forgiven his dislike of her and Michael, which no doubt helped to shape Marina's more complicated estrangement. "Not knowing who we were," Ruth says, "the safe thing was to stay clear and probably to advise her to stay clear." Certainly, Marina's complaint about Ruth's supposed enjoyment of the limelight mimics Robert's own. But the influence of Lee's brother was stronger than Ruth ever knew. In the period just after the assassination, Marina had a brief affair with Robert Oswald. Their involvement may have provided the chance for revenge against a brother and a husband; surely it made the growing distance between Marina and Ruth even less bridgeable. Marina was now subject to both Robert's viewpoint and her own shame; the two conditions conspired to lock out her old friend.
Priscilla Johnson McMillan, whose "Marina and Lee" (1977) remains the most authoritative study of the Oswalds' marriage, heard about the affair between Marina and Robert from Marina herself but left it out of her book. Yet the affair (confirmed by my conversation with another source once close to Marina) is relevant to any understanding of the estrangement between her and Ruth, and when McMillan revealed it to me, last year, it was with the thought that finally knowing about it "might lighten Ruth's load a little bit."
In the late winter of 1964, Marina finally proposed a meeting. "We met at Katya Ford's house, where she was staying," Ruth recalls, "and that was comforting, to know that she had remade contact with Russian-speaking folks." The meeting was brief and friendly, but not a success. No mention was made of the Walker letter or of other reasons for the breach. Marina's essential message, Ruth recalls, seemed to be about the Warren Commission — that they "were nice people, and they would be kind and thoughtful, that I shouldn't be worried about going to testify. "
At another meeting, that fall, Marina wanted to show off a new house that she'd bought outside Dallas. "We took a picture and we talked for a little bit, and I saw her children and she saw mine and so on," Ruth recalls. "We caught up a little on child kinds of issues. But I found it — I was very sad." It turned out to be their last meeting; the two women have not been in touch for more than thirty-five years.
Marina remained in Texas, and, in 1965, married Kenneth Porter, an electronics technician; they had a son together. After years of publicly accepting the Warren Commission's findings, Marina converted to a conspiracy view of the assassination which did not involve Lee Oswald.
Marguerite Oswald, who speculated that the assassination had been a government-sponsored "mercy killing," and who thought that her son, like J.F.K., deserved a burial at Arlington National Cemetery, showed up one day in 1964 at 2515 West Fifth Street and asked to take photographs "for the historical record." Ruth obliged, even if Mrs. Oswald "was not friendly, I would say." Marguerite left the house within minutes. Among the annotations to Ruth's testimony in Marguerite's copy of the Warren Commission transcripts — preserved at Texas Christian University with a ragbag of her other papers — one finds the following reflections: "The proud and perfect Quaker . . . I keep saying she is a fraud and liar. . . . She is evil, and selfish and the cause of it all. . . . I would wipe up the floor with her." Even Ruth, so devoid of mockery, now has trouble taking Marguerite Oswald, who died in 1981, with complete seriousness: "She was a trip."
Robert, now sixty-seven, rarely agrees to interviews, and never over the telephone. He could not be coaxed to sit down for a face-to-face discussion of the Paines. "No, sir, not on this issue," he told me politely. Nor would Marina agree to discuss her thoughts about Ruth. "I read your letter," she told me over the telephone, her voice still overlaid with a Russian accent and an unmistakable frost: "I'm not interested."
Marina did speak with Oprah Winfrey in 1996, on the thirty-third anniversary of the assassination, to explain her current belief in Oswald's innocence. By then, her face lined and her manner careworn, Marina seemed more a Soviet relic than the glamorous material success she had become in 1964.
When I showed Ruth a videotape of the Oprah interview, she got her first look at the older Marina. She watched attentively, murmuring recognition when Marina mentioned the embarrassment she felt over eating the bread of her "Quaker friend" while keeping secret the location and history of her husband's gun. But she professed a belief in Oswald's complete innocence; she did not even see him as part of whatever conspiracy killed Kennedy, an assertion that prompted Ruth, sorrowfully, to respond, "I thought she was a better thinker than that."
Afterward, Ruth conceded the impossibility of ever having maintained a friendship with the young woman who provided exotic solace in the lonely year of 1963. Her eyes filled with tears as she asked, "What did we share but the worst thing that had happened to each of us?" (c)
---
Back to Lee Harvey Oswald Page
Back to Kennedy Assassination Home Page